Current Members
Our Members are Accomplished Poets! Check out some recent publications from some of our members
From Karen George
Karen George is author of five chapbooks, and two poetry collections, her most recent, "A Map and One Year," was published by Dos Madres Press. Her poetry has recently appeared in Thimble Magazine, Unlost Journal, Juniper, Charge Magazine, Valparaiso Poetry Review, and Ekphrastic Review. She reviewed Karen Craigo's "Passing through Humansville" at Poetry Matters Blog. Visit her website at: https://karenlgeorge.blogspot.com/.
From Susan Glassmeyer
Susan F. Glassmeyer has been imagining poems since childhood when her Kentucky grandfather explained the language and meaning of train whistles. Her sensitive lyrics and courageous narratives are rooted in both personal and transpersonal experience. Because Susan's poems are grounded in the sensory life of "the body", they ring true for readers engaged with the world as it is – with all its grief and sorrow as well as its beauty and joy.
Invisible Fish, published in 2018 by Dos Madres Press, is Susan's first full-length poetry collection. Other publications include two chapbooks: Body Matters (Pudding House Publications, 2010) and Cook's Luck (Finishing Line Press, 2012). Individual poems have found homes in these and other journals: Rattle, Naugatuck River Review, Sixfold, Pine Mountain Sand & Gravel, Dunes Review, The GHAZAL Page, Rogue Agent, Gratefulnes.Org, and Ohio Poetry Association anthologies.
In 2018, The Ohio Poetry Day Association named her Ohio Poet of the Year. To learn more about her, purchase her books, and see the other creative projects she's tackled, visit her website.
From Joanne Greenway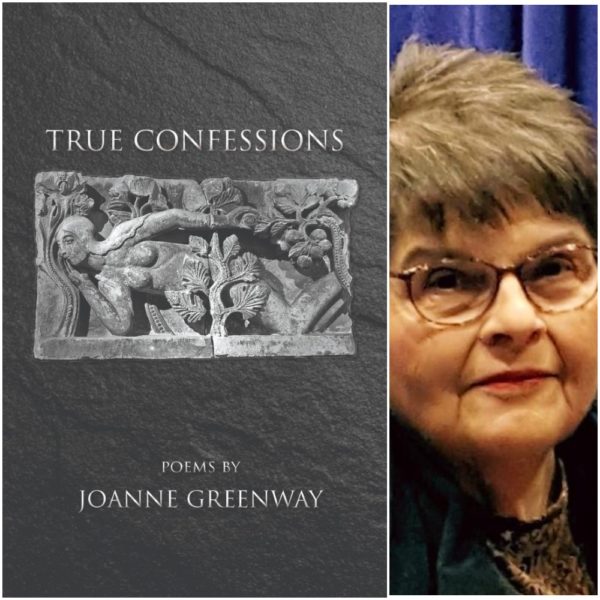 Joanne Greenway was born and raised in rural upstate New York and holds a Master's Degree in French Literature from IU Bloomington. After a career detour through social work and sudden widowhood, she began to write and publish poetry. True Confessions is her second chapbook, published by Finishing Line Press
A member of GCWL since 2006, she is currently president of Greater Cincinnati Writers League, a poetry organization that has met continuously for almost 90 years.
"Joanne Greenway has a knack for lacing together the humorous and absurd with the serious in a way that enhances each. This talent abounds in her new collection of poems, or should I say confessions? This verse is rich in particulars which range from June Cleaver's Immaculate Heart to a mob goomba named Sally."
–Jerry Judge, author of Luna Moth and Night Talk in the Barracks
You can purchase True Confessions from Finishing Line Press's website by clicking here
From Mark Lehman
Twenty Small Worlds
Mark Louis Lehman graduated from the University of Michigan in 1968, later earning a Ph.D and teaching English for three decades at the University of Cincinnati. He has also been a long-time classical music reviewer for The American Record Guide and The Absolute Sound. He published a novel titled Mocky's Revinge (yes, that's the correct spelling) in 2007, and his poetry has appeared in Quiet Diamonds, The Lyric, Eureka Review, and Cincinnati Poetry Review. His most recent chapbook, Twenty Small Worlds, was published by Orchard Street Press this year.
To purchase a copy, please contact Orchard Street Press here.
From Megan Mary Moore
Megan is a poet based in Cincinnati, Ohio where she writes poems and talks to ghosts. She holds an MFA in poetry from Miami University.  She recently published her first chapbook from Unsolicited Press. You can purchase the book here. To learn more about Megan Mary Moore, visit her website at https://www.meganmarymoore.com/
From Lynn Robbins
"The wound is where the light enters you." So said the poet Rumi nearly 800 years ago, and the thought still holds true. For some, one such wound is child abuse.
In Where the Light Enters, Lynn Robbins gives voice to what many abuse victims experience when they speak their truth. While 45% of victims do not tell anyone for five years, and some never disclose, it's the painful telling that can let the light enter.
The victims—survivors—of child abuse have seldom been heard, let alone believed. The MeToo and Time'sUp movements have opened that door, as well as the U.S. Olympic gymnasts and those revealing abuse within the Catholic church. The time has finally come for more voices to be raised and more light to enter.
The first of these poems "came to" Lynn Robbins (that's how she describes it) on the morning of November 21, 1993, filling three pages of her notebook with a voice, form, and dramatic tone that felt, both then and now, years later, other than herself. It was also a voice that grabbed hold and wouldn't let go. Every few days another poem would arrive—three more pages, same odd voice, the whole collection in less than two months.
Never before, or since, had Robbins written anything like these.The unusual voice and form are seen now as a way to make difficult subjects easier to approach—sexual abuse, anxiety, depression, suicide, and death. And yet She-One, the heroine of these stories, repeatedly finds hope, the sun.
One gift of poetry is that not every line or idea has to be true. It only has to be able to be imagined. It only has to be able to be believed or hoped for, taking the reader—or writer—somewhere new. It did that for Lynn Robbins. Her hope is that it may do that for others, too.
From Roberta Schultz
Roberta Schultz is a singer songwriter, teacher and poet originally from Grant's Lick, KY.  Her poems and song lyrics have appeared in Motif, Still: the Journal, Riparian, Pine Mountain Sand and Gravel, The Main Street Rag and other anthologies. Her chapbooks, Outposts on the Border of Longing(2014) and Songs from the Shaper's Harp(2017) were published by Finishing Line Press. Her new chapbook, Touchstones, is available for purchase at Finishing Line's website.
You can learn more about Roberta Schultz by visiting her website.